Size chart - Light weight 100% cotton uniforms..
If you have difficulty deciding which size to purchase, please measure an uniform that fits you well and compare against this chart provided. Please note that all new cotton uniforms will shrink at least one to two inches after the first wash.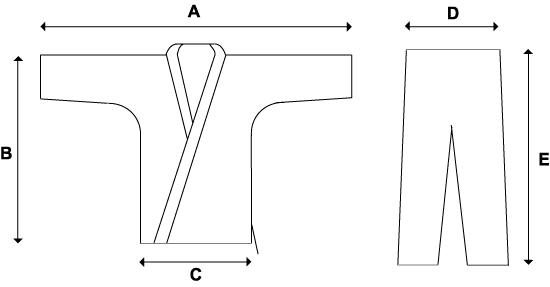 All measures are with +/- 3% tolerance.
* Measures are in inches
Size
A
(Top Width)
B
(Top Length)
C
(Top Waist)
D
(Pant Width)
E
(Pant Outseam)
#0000
40.9
20.9
15.7
14.2
27.6
#000
44.1
22.4
17.3
14.2
29.5
#00
47.2
24.0
18.9
15.0
31.5
#0
50.4
25.6
20.5
15.7
33.5
#1
53.5
27.2
22.0
16.5
35.4
#2
56.7
28.7
23.6
17.7
37.4
#3
59.8
30.3
25.2
19.7
39.8
#4
63.8
31.9
26.8
21.3
42.1
#5
67.7
33.9
28.3
22.8
44.9
#6
71.7
36.2
29.9
23.6
47.2
#7
74.4
38.6
31.1
24.8
49.2
#8
77.2
39.4
32.3
25.2
50.4
* Measures are in centimeters
Size
A
(Top Width)
B
(Top Length)
C
(Top Waist)
D
(Pant Width)
E
(Pant Outseam)
#0000
104
53
40
36
70
#000
112
57
44
36
75
#00
120
61
48
38
80
#0
128
65
52
40
85
#1
136
69
56
42
90
#2
144
73
60
45
95
#3
152
77
64
50
101
#4
162
81
68
54
107
#5
172
86
72
58
114
#6
182
92
76
60
120
#7
189
98
79
63
125
#8
196
100
82
64
128
---
Size chart by height